Are Bachelor's Degrees Worth It? asks Jeffrey Selingo, author of College (Un)Bound: The Future of Higher Education and What It Means for Students, in the Wall Street Journal.
With unemployment among college graduates at historic highs and outstanding student-loan debt at $1 trillion, the question families should be asking is whether it's worth borrowing tens of thousands of dollars for a degree from Podunk U. if it's just a ticket to a barista's job at Starbucks.
In Arkansas, Colorado, Tennessee, Texas and Virginia, families can now compare colleges and majors based on the first-year earnings of graduates of in-state schools. First-year salaries are higher for workers with an associate degree in an occupational field than for four-year graduates. "
In Virginia, graduates with technical degrees from community colleges make $20,000 more in the first year after college than do graduates in several fields who get bachelor's degrees," reports Selingo.
Four-year graduates usually earn more over a lifetime than two-year graduates — but only if they actually complete the degree.
The U.S. Education Department's College Scorecard and the Chronicle of Higher Education's College Reality Check help prospective students estimate college costs and payoffs.
"Not all college degrees or college graduates are equal," warns a Brookings policy brief, Should Everyone Go To College?
While the average return to obtaining a college degree is clearly positive, we emphasize that it is not universally so. For certain schools, majors, occupations, and individuals,
college may not be a smart investment. By telling all young people that they should go to
college no matter what, we are actually doing some of them a disservice.
Going to a highly selective college and majoring in a STEM field lead to high earnings. By contrast, education or arts majors "in the service sector" earn less than the average high school graduate over a lifetime, according to Brookings. (It's not clear what "service sector" means.)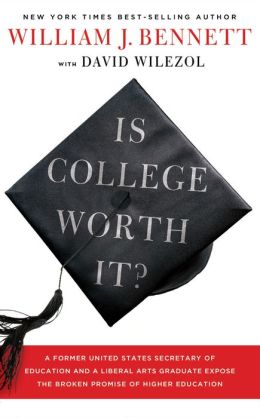 Is College Worth It?  Consider the alternatives before going into debt advises William J. Bennett, a former U.S. Secretary of Education, and co-author David Wilezol. A four-year degree isn't necessary for success, Bennett tells U.S. News.
By 2018 there will be 14 million jobs available, well-paying jobs, which will require more than a high school diploma but less than a college diploma, Bennett says. Community college graduates (with a technical certificate or two-year degree) can earn more than four-year graduates.
Community college, trade school or working for a year and thinking about are all alternatives to pursuing a bachelor's degree, Bennett says.
Put some money in the bank. Join the military is another alternative where you earn great trade skills. We heard from an expert that there are 115,000 janitors in America with B.A.s. It's fine to be a janitor, but you didn't have to spend that kind of money to be a janitor.
Parents and students may be surprised at "the large array of options available, other than the B.A., that can give you success and economic success, and not have to make you defer for 10 years getting married and starting a family and buying a house," says Bennett.
Track graduation rates and default rates for all students — not just full-timers — advises Education Sector in Degrees of Value: Evaluating the Return on the College Investment. In addition, it's important to take into account whether colleges are enrolling low-income, high-risk students or taking only affluent students. Other suggestions:
First-year earnings matched by College Measures are simply too limiting given that employees' salaries are often volatile in the years right after college graduation. A more useful dataset would show lifetime earnings, sortable by institution and major, and connect to other government data sources, so policymakers could more easily track the earnings of those who received government aid, such as Pell grants or student loans.

When viewed in isolation, career earnings can be misleading, if for example an institution places most of its graduates in public-service fields. A better consumer information system would give students and policymakers a snapshot of the types of jobs graduates from particular colleges and majors end up taking.
Student satisfaction surveys also would help prospective students evaluate their choices.