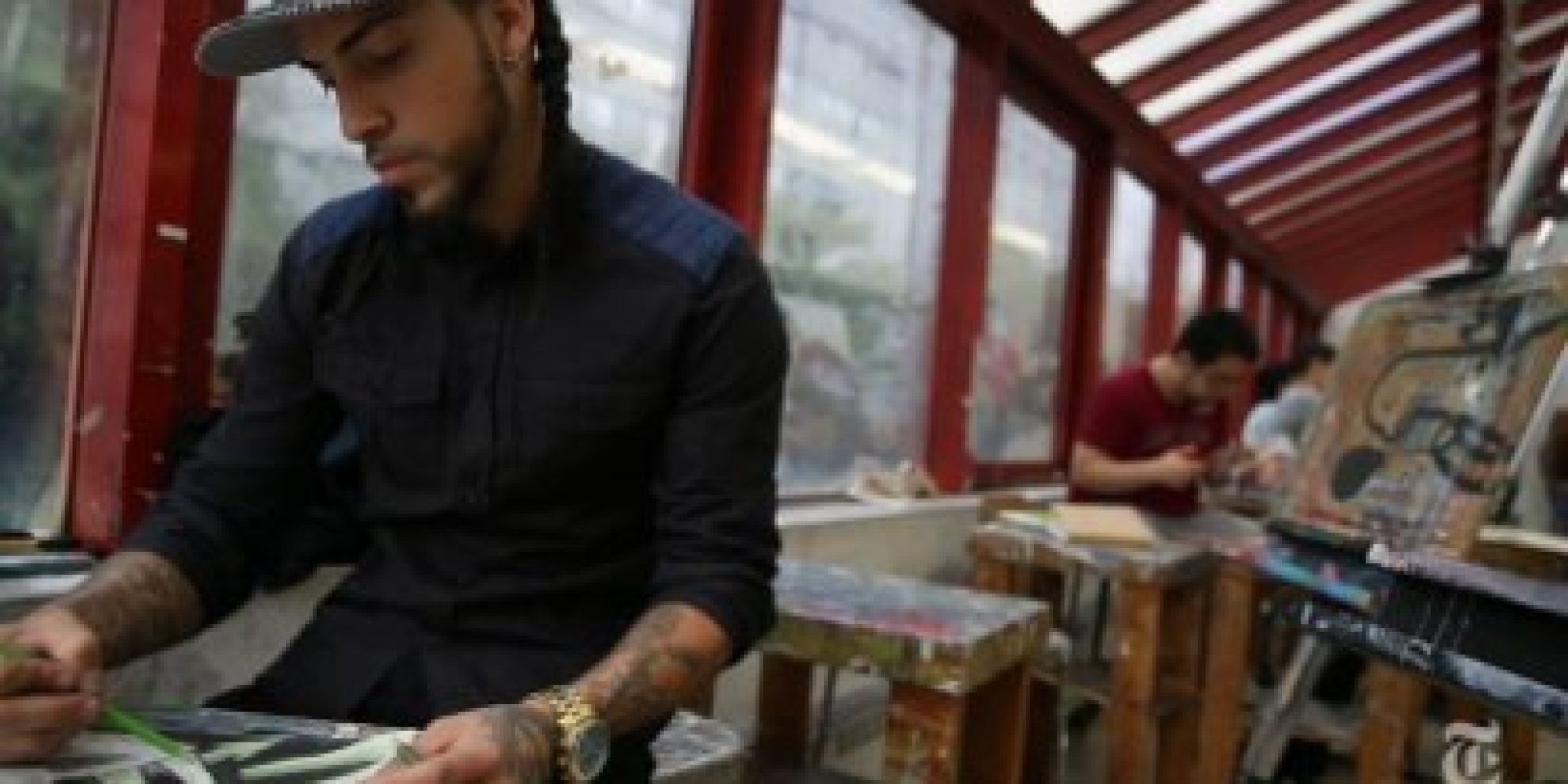 Vladimir de Jesus hopes to teach art, but has flunked remedial math three times.
Community College Students Face a Very Long Road to Graduation writes Gina Bellafante in a New York Times profile of a student at New York City's La Guardia Community College. Vladimir de Jesus enrolled in September 2008, left after the first semester to work full time, then returned in 2012. In six semesters, he's earned only 27 credits of the 60 he needs to transfer — and he's flunked remedial math three times.
A fine arts major, he hopes to earn bachelor's and master's degrees and teach studio art and art history.
De Jesus went to a low-performing high school, cut classes and dropped out, but earned a GED. He fathered a child when he was 17. He helps care for his six-year-old and uses some of his earnings as a freelance tattoo artist to help pay her Catholic school tuition. He suffers from ulcers.
More than 70 percent of LaGuardia students come from families with incomes of less than $25,000 a year, writes Bellafante. Many are working, raising children and facing personal and  health issues. Community colleges offer far less counseling than better-funded colleges and universities. The neediest students are on their own.
Toward the end of last semester, Mr. de Jesus had fallen behind on his math homework. There were domestic complications: the death of his grandfather, and the stresses of a college student's typically strained romantic life. At one point he lost the lab work that he had done in class, which would make up 5 percent of his total grade. Not having a computer of his own, he had been checking laptops in and out of the library. In the process of returning one, he had left the lab work behind. When he went back to retrieve the papers, they were gone.

The final exam for Math 96 would make up 35 percent of the total grade, and as the day of the test approached, Mr. de Jesus knew that with the demerits he would face for his poor attendance and his unfinished homework, there was little chance he would pass. On the morning of the exam, he didn't show up, and he failed the class for the third time. As it happened, more than 40 percent of the students in the class also failed.
"This whole thing with math just hits your spirit in the wrong way," he said. "It demolishes your spirit. You become lazy."
Gail Mellow, LaGuardia's president, believes students shouldn't have to master algebra if they're not planning to pursue a math- or science-intensive field. La Guardia is experimenting with Carnegie's statistics and "quantitative reasoning" alternatives to traditional developmental math.
De Jesus is postponing a fourth try at remedial math and considering applying for a job with the Sanitation Department, reports Bellafante. Given his long odds of completing a bachelor's degree and low earnings for fine arts graduates, that's not a bad plan. He could take art classes, do art and forget about trying to pass math.