Giving college credit for apprenticeships will boost graduation rates and develop skilled workers, said Vice President Joe Biden at the American Association of Community Colleges' annual convention. He announced the Registered Apprenticeship College Consortium, which  includes community colleges, businesses, labor unions and industry organizations.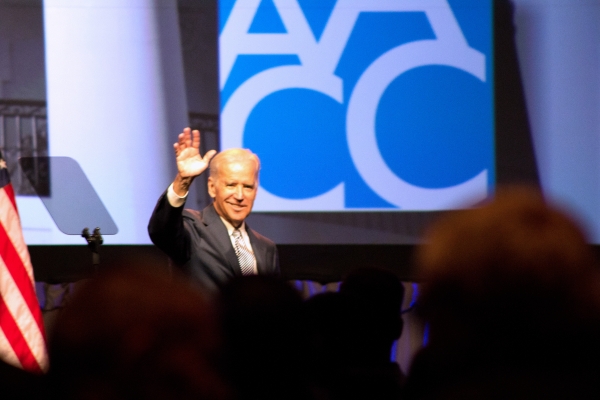 The Obama administration hopes to "scale up to the national level the thousands of existing agreements between a single college and regional employer or union to provide credit for apprenticeships," reports Inside Higher Ed.
The American Council on Education and the National College Credit Recommendation Service already evaluate apprenticeship experience and "make recommendations about how the apprenticeship experience translates into the traditional academic unit of credit hours."
Consortium members will promise to accept those recommendations.
The Departments of Education and Labor will run the voluntary consortium.
Biden proposed expanding the apprenticeship model to fields such as allied health and information technology, says Matt Reed, who attended the speech. It's not clear how this would work. 
In allied health fields,  students already can "move up the ranks through well-designed stackable programs," earning as they learn. At his college, Holyoke, the Foundations of Health program is  "conspicuously successful."  
But I honestly don't see how the apprenticeship model would work in IT. Apprenticeships work well when the craft takes time to learn, the roles are well-defined, and the field is structurally stable. Pipefitting is like that; moving water from here to there is still essentially the same process it was a generation ago. Apprenticeships also generally happen in unionized industries.  Construction tends to be heavily unionized, so it lends itself well.

IT doesn't fit either bill. The content of the field changes rapidly, and its structure is in constant flux.  It's relatively indifferent to credentials — in part because the field is in such flux — and it's not exactly a hotbed of unionization.  IT has adopted the internship model much more than the apprenticeship model, both because interns are cheaper and because the industry doesn't rely on clearly defined roles.  The field is rife with startups, which are notoriously averse to the kind of rankings that apprenticeships presume.
Another question: Do industry-trained apprentices need college degrees?