Earning a vocational certificate in one year or less can raise earnings significantly, concludes a forthcoming study announced at a Center for Analysis of Postsecondary Education and Employment conference. Past research has found labor market payoffs only for longer-term certificates.
Di Xu and Madeline Trimble, researchers at the Community College Research Center, found "positive, significant returns" for short-term certificates earned at community colleges in Virginia and North Carolina, reports Inside Higher Ed.
North Carolina students earned $1,172 more per year, on average, and were 7 percent more likely to be employed. Virginians who earned a certificate earned $888 more and were 3 percent more likely to be working.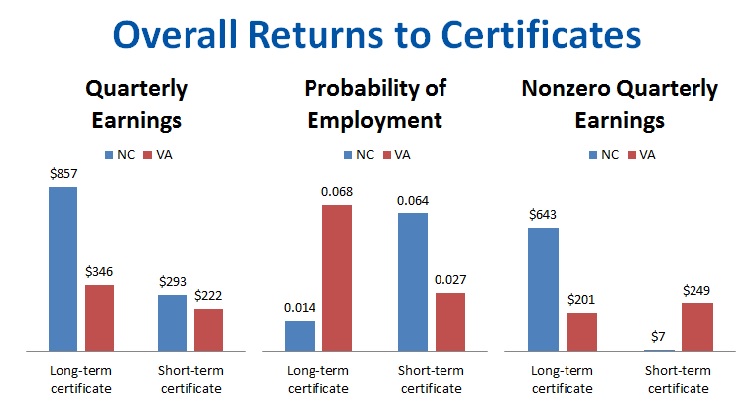 The value of certificates varies, depending on the field, said Trimble. Earning a basic law enforcement certificate at a North Carolina community college leads to a $10,000-plus raise because the certificate is "tightly tied to licensing requirements" in the state, she said.
Short-term certificates in nursing or medical assisting failed to yield almost any labor-market returns, the research found, while longer-term certificates in those fields did well. And short-term certificates in some health-care disciplines, such as in phlebotomy in North Carolina or dental assisting in Virginia, did result in substantial wage gains.
At Northern Virginia Community College (NOVA), certificates are stackable, said Bob Templin, NOVA's president.  Credits will count toward higher-level certificates and degrees.
Students who earn a 12-week certificate in an automotive technology field, such as one for an emissions specialist, are employed and earning $39,000 a year 18 months later, said Templin. But there's little pay bump for people who earn emergency medical certificates because most students use them to become volunteer first responders for fire departments.
Associate degrees in liberal arts, humanities or general education don't raise earnings, concludes a study by the Center for Analysis of Postsecondary Education and Employment. These degrees pay off only if they're the first step to a bachelor's degree.